Chevrolet Hall Of Fame Museum | 3635 US Route 36 East | Decatur, IL. 62521 | 1-888-9-BOWTIE
Web Buttons Gallery by Vista-Buttons.com v4.0
Chevrolet Hall of Fame Museum's 1st Annual Classic Car & Memorabilia Auction proves to be major success in inaugural year!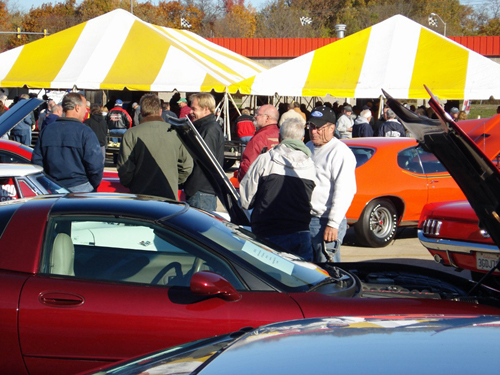 On a brisk morning of October 29th, 2011 Decatur, IL. was able to experience a first ever classic car & memorabilia auction presented by the Chevrolet Hall of Fame Museum. The sunny but brisk morning brought people from all over the Midwest to see the just shy of 50 cars and lots of memorabilia be auctioned off. The goal of 100 cars fell short primarily due to skepticism, that the money and or quality would not be there. Well, without a doubt, we had both and people have seen for next year that we will have a great event!
Just over half of the cars met reserve and were sold to the new owner! Memorabilia all sold with no reserve and seemed to bring very fair prices. The auction went off very smoothly for the inaugural year and the Chevrolet Hall of Fame Museum would like to Thank everyone that had a part in helping to make this first year a success! Without all the help from dozens of friends, and very late nights, it would not have been possible!
The museum would also like to Thank Central Illinois Auctions and Hayden/Wilkerson Auction Company and staff for their outstanding service. The auction went off without a hitch and a great time was had by all. Plans are well under way for the 2nd Annual Classic Car & Memorabilia Auction that will be changed up considerably with memorabilia being auctioned off at 7:00 pm(CST) Friday night just after a preview party that will start at 3:00 pm (CST) in the afternoon on Friday. The cars will roll across the auction block starting at 10:00 am (CST) until 10:00 pm on Saturday evening. Auction will continue on Sunday at 10:00 am if need be. Consignments will start being accepted approx. 4 months in advance. Please check back and stay tuned to our website for all the details for next years fantastic event!
Below are some photos from Auction Day activities !
---
Contents ©2009, The Chevrolet Hall of Fame Museum, All Rights Reserved
Copyright / Trademark / Privacy Information