---
2013 Events are underway !
Saturday March 23rd 2013 - Chevrolet Hall of Fame Museum Race Car Show

MACON SPEEDWAY GEARS UP FOR 2013 WITH CAR SHOW
Presented by National Dirt Racing League and 95Q
The Chevrolet Hall of Fame Museum and Macon Speedway, have partnered up to bring you an amazing car show to kick off the 2013 racing season. The car show will take place at The Chevrolet Hall Of Fame Museum on Rt. 36 East in Decatur, IL on Saturday, March 23 starting at 11 a.m. and lasting until 4 p.m.
Come and see all the same cars that race at Macon Speedway each and every Saturday night throughout the summer and check out the two-seater, Macon Speedway show car. Join us as we check out all the cars that will be kicking off the season at Macon Speedway at the Sixth Annual Spring Fling Season Opener on April 6.
We will also be giving away FREE CONCERT TICKETS to CODY MCCARVER! The National Dirt Racing League will be presenting Cody McCarver in concert on March 29 at Paducah International Speedway, Paducah, KY, and Macon Speedway will be giving out FREE tickets at the Car Show. Cody will be performing his NEW single "LET'S GET DIRTY", along with a full concert at the $20,000 to Win Late Model Show at PIR, March 29th.
Macon Speedway's season opener will feature UMP Modifieds, Sportsman, Street Stocks, Outlaw & Stock Hornets, and POWRi Mini Sprints. Pit gates open at 4 p.m., grandstands at 5 p.m. and the 2013 season will kick off at 7 p.m. The winter is heading out, and the temperature is warming up, so bring your friends and family out to the track to help us kick off 2013!
Macon Speedway is located 9 miles south of Decatur, IL on US 51 then .6 miles west on Andrews Street, then south on Wiles. For information, call 217-764-3000 (track), or contact Macon Speedway via email at track1985@gmail.com.
Also visit www.maconracing.com or www.trackenterprises.com for additional information.
Everyone is welcome to join in the fun, so don't miss the shows!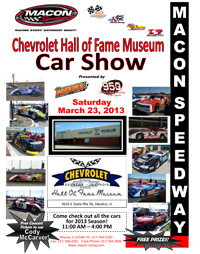 Click on the photo above for a pdf flyer you can print off .
Click HERE to view the NDRL Press Release
Click HERE to view the Macon Speedway Press Release